GFI 6000 Fax Pages inbound or outbound LOCAL in one year in one year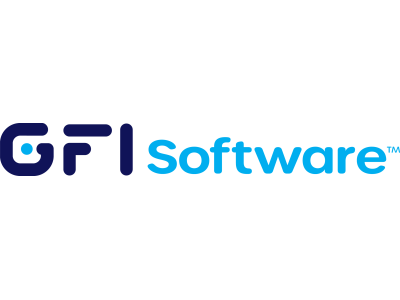 Beschikbaar, verwachte levertijd 2-3 dagen
Order-nr:

FMO-SS500-OFS-1Y

Leverancier-nr:

FMO-SS500-OFS-1Y
Beschrijving
Omschrijving
GFI FaxMaker is een toonaangevende faxserver die faxen gemakkelijk, veilig en betaalbaar maakt. Problemen met handmatig faxen behoren tot het verleden: Berichten worden ontvangen en verzonden via de PC met behulp van een mailclient. Of verzend berichten rechtstreeks vanuit applicaties. Met de bekroonde functionaliteit, de hoge betrouwbaarheid en de scherp geprijsde licenties wordt GFI FaxMaker al meer dan 10 jaar door duizenden bedrijven gebruikt. De functies van GFI FaxMaker zijn onder andere snel faxen en directe levering, aanzienlijke kostenbesparingen en een eenvoudige digitale back-up van alle berichten als e-mail of bestand.
GFI FaxMaker is a leading network fax server software solution for small to medium-sized businesses (SMBs). It makes sending and receiving faxes an efficient, simple and cost-effective process and solves the problems associated with manual faxing.
GFI FaxMaker has all the rich features you would expect from a business-grade network fax server, with the added benefit of being able to connect to online fax services (hybrid faxing). No phone lines, modems, fax boards or complex PABX setups required!
Sending and receiving faxes is as simple as email. Each fax is digitally saved for easier filing and finding. It gives you reliability and enterprise functionality at highly competitive pricing.
Increases your efficiency and productivity
GFI FaxMaker helps you reduce labor costs, increase information security and leverage existing application infrastructure. Your business can save thousands of dollars in labor costs alone and improve work flow efficiency and employee productivity. No more waiting at the fax machine to search for incoming faxes or see if a transmission went through.
Enhances your communications platform
Faxes created with a network fax server solution add consistency to your business communications and appear more professional to the recipient.
Leverages the power of your existing applications
Expand your use of existing business applications, such as word processing and messaging, with no additional software or training costs to your business. The end result: higher productivity and lower costs.
Improves your business processes
Right from the start, GFI FaxMaker enables users to quickly and easily send, receive and manage fax communications from their desktops. With faxes composed in a word processor (or other application) or created via email (commonly known as email to fax), numbers can be selected from the email clients' address list or entered manually. As a result, your end-to-end fax communication process is shorter, more efficient and better organized.
Expands your email benefits
Traffic is managed through your business' existing email infrastructure, which can receive and route faxes. The "email to fax" and "fax to email" technology provides a truly seamless experience.
Enhances your mobile efficiency
GFI FaxMaker also allows your users to send and receive faxes via handheld or mobile devices including: Smartphones, BlackBerries, tablets and more. The ability to receive information anywhere, in just about any form, is mission critical for many businesses.
Reduces your costs
One of the key benefits of GFI FaxMaker is the cost savings it provides to your business. A single fax can take up to ten minutes to send manually. When you multiply that by the number of faxes sent in the course of a year, the labor costs could climb into several thousands of dollars.
Improves production faxing
Production faxing is a key requirement for any company whose day-to-day operations consist of delivering paper documents to customers and partners. Production faxing enables companies to deliver business critical documents - such as purchase orders, invoices, order confirmations, financial reports and mortgage tables, without the need to print, mail or manually fax a document.
Enhances your ability to "go green"
Using GFI FaxMaker's network integrated faxing, end users can send, receive, view, print and save faxes from their desktop or laptop computer, eliminating the pile of paper around a communal fax machine. Less paper means more environmentally friendly and a reduced carbon footprint.
Increases your information security and privacy
Automatic inbound routing through a process called Direct Inward Dial (DID) routing, (where end users are assigned a personal secure fax number) sends faxes directly to the user's desktop. Because the fax is received in the user's account, faxes are not left out in public view, and are not prone to being discarded, misrouted or read by the wrong person(s).
Eigenschappen
| | |
| --- | --- |
| Duration: | 12 Maanden |
| End user type: | STD |
| License Band: | Hoeveelheid: 1-1 |
| License type: | New |
| Product type: | Software |
| Unit of measurement: | Licenses |